MetLib
Data de publicació: 9 febrer 2018 per COBDC | Escrit a: 2018 > Agenda > Maig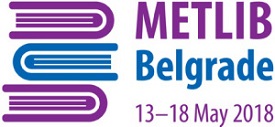 Data: 13/Maig/2018
Lloc: Belgrad, Sèrbia
Descripció:  There are a lot of reasons to participate to an IFLA MetLib Conference. This conference is a full immersion in the dynamic world of public libraries of large cities, with international perspectives and local country insights. This year, we will celebrate the 50th MetLib Conference, for the first time in Serbia. The programme will be an exciting mix of presentations and library visits, with new ideas and solutions that will inspire you. During the conference, you will be part of the jury of the 3rd IFLA Metropolitan Libraries Short Film Award. It will be fun! There will be social and cultural events, and the unique chance of meeting and exchanging ideas with city library directors and managers from all over the world.
Feel free to pop in during our Standing Committee meeting. The IFLA Section on Metropolitan Libraries is supported by 49 institutions, 8 associations and 15 personal affiliates. Read what we are planning and consider being nominated to work actively with us. At the next IFLA World Library and Information Congress in Kuala Lumpur, we will present a programme about the controversial role of the public library as a safe place. A "sister libraries" project is underway.
Next March the IFLA Global Vision will go through the next step at the IFLA President's Meeting in Barcelona, Spain, with the publication of the IFLA Global Vision report, a roadmap of the united library field. At the conference you will contribute to develop a concrete action plan on how to put our collective vision of the future into practice. I look forward to meet you at the 50th IFLA MetLib Conference in Belgrade, Serbia!
Més informació: MetLib 2018 
Contingut relacionat